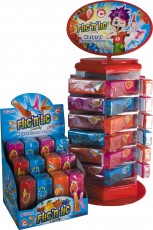 Ausome
A company which conquers with it's innovatory and a quality of it's products. Be a child again...

Flick 'n' lick lollipop – lick, close and continue later. Super Baby bottle – baby bottles for a big babies also. Nintendo Wii and Mario Kart – continue to play even when you put down the computer console and sweeten it with candies.

And many others cool products...
| SKU | BARCODE | COMMERCIAL PACKAGING |
| --- | --- | --- |
| Lollipop Flic'N'Lic with toy 14g | 4895060502191 | 24 pieces |
| Lollipop Super baby bottle 27g | 4895060501118 | 24 pieces |